The Economist Group
Pitch deck

for research on attitudes to luxury consumption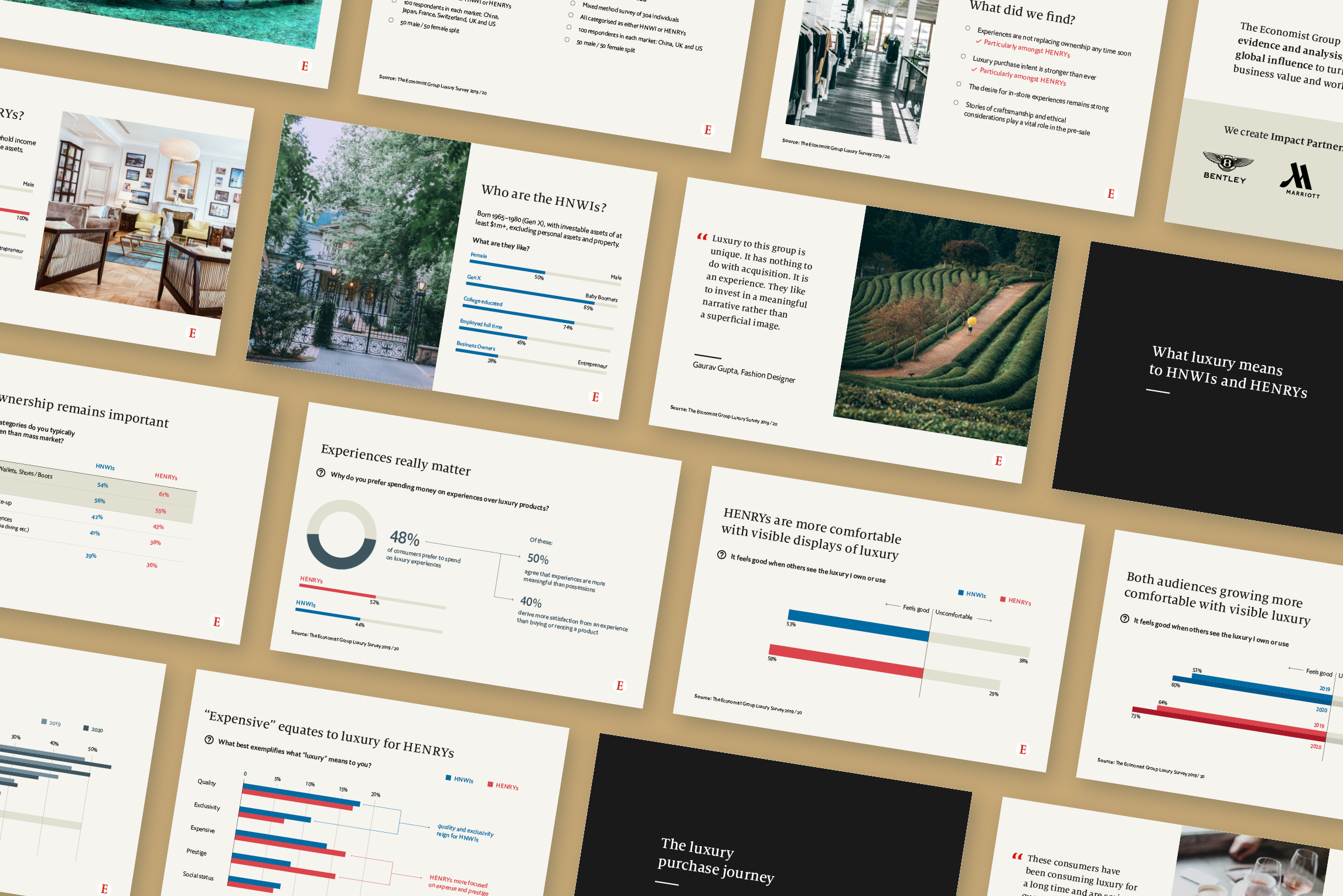 The Economist Group's latest research sets out to better understand the changing landscape of luxury consumption amongst High Net Worth Individuals (HNWIs) and the High Earners, Not Rich Yet (HENRYs). Nearly 1,000 individuals across six global markets (China, US, France, UK, Japan and Switzerland) were recruited into two mix-method surveys. The findings explore the behaviours of the next generation for insights on how luxury businesses can communicate with their consumers.
What did they need?
The brief was to refresh the slide deck in a way that reflects The Economist Group's reputation and insights of the luxury market, as well as drive traffic to their industry-specific report. To do this, the project had to be positioned in a way that would be harmonious with the modern luxury aesthetic, whilst clearly presenting research findings relevant to luxury marketers, directors and CMOs (Chief Marketing Officers) worldwide.
What did I do?
I worked closely with the Global Head of Creative to express the power of luxury through impeccably elegant, simple and clean design. The minimalist data visualisations vividly communicate the important findings through high contrast palettes, complemented by a soft golden canvas and crisp typography from The Economist Group brand guidelines.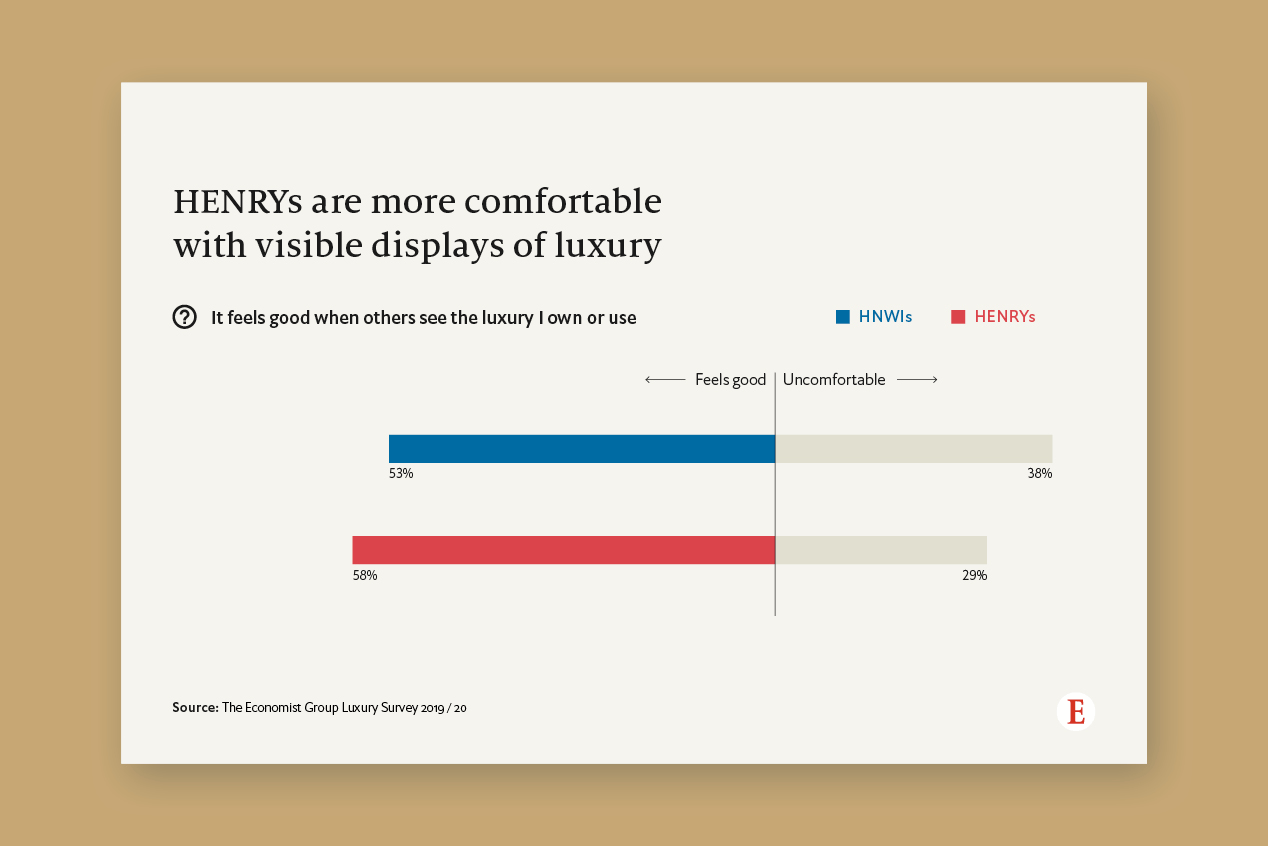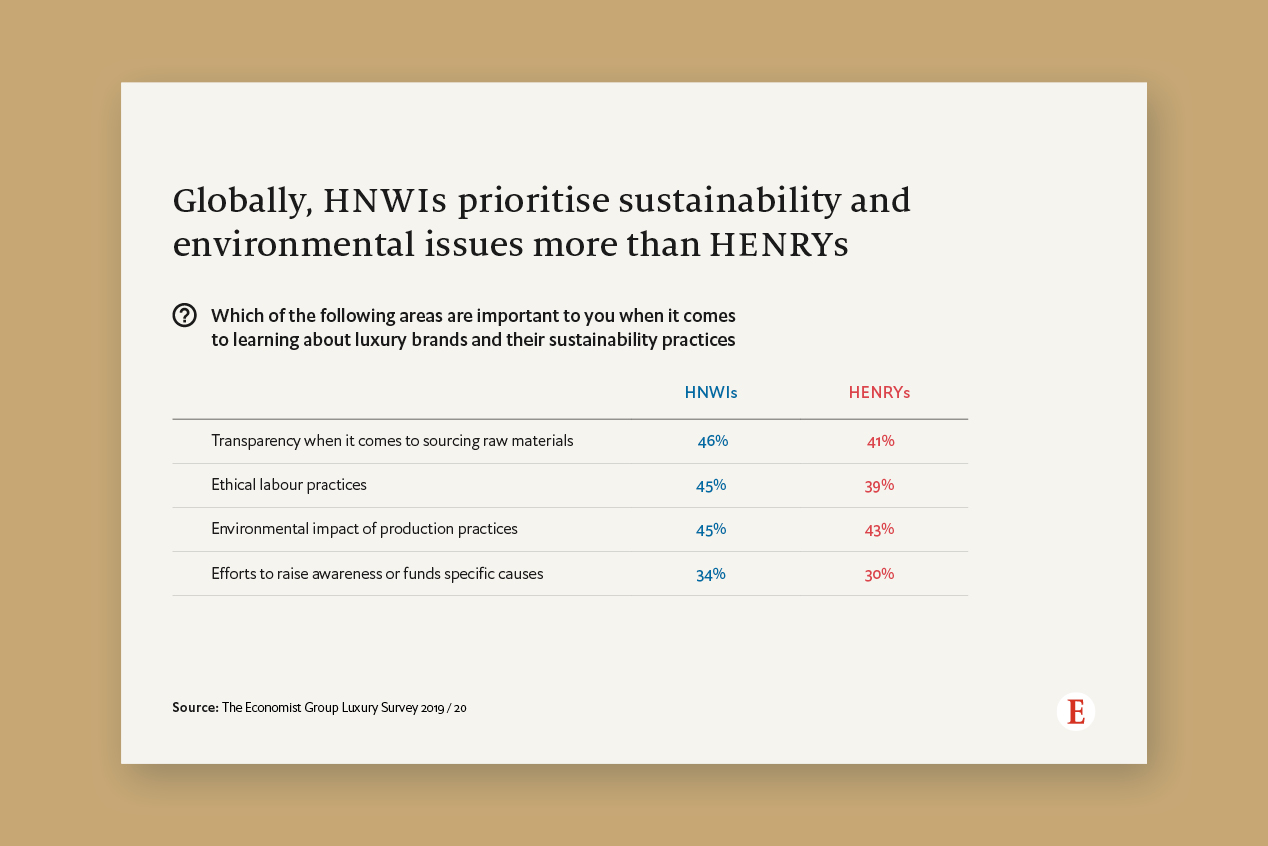 My approach
I began the design process by benchmarking the brand experiences of boutique shops and hotels to identify luxury design solutions consistent with the core branding. The visual tone of voice is fresh, rich and modern, with data visualisations reinterpreted for added clarity.
The Economist Group were seeking an affluent, yet authentic, look that demonstrates their familiarity with luxury markets. Particular care and attention was given to the accompanying photography, which sets the narrative through macro real-life action shots, luxury interior and exterior scenes. These appeal to diverse audiences by repositioning away from western clichés of luxury consumers (rich, white, male) that are no longer relevant.
Key outputs
The highly polished slide deck clearly positions The Economist Group's expert research in the context of the luxury marketplace. It assures a comprehensive understanding of the findings through crisp data visualisations and adds visual context to the existing narrative, revealing the unfolding impact of a new generation of luxury consumers.